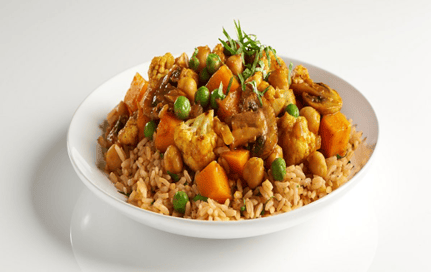 Fall has arrived in Chicago. It's time to cozy up with some warm Fall recipes and pumpkin dishes. We have a delicious autumn recipe, perfect for chilly Chicago Fall nights: Pumpkin Curry Vegetable Sauté.
Ingredients:
1/2 cup canned pumpkin puree NOT pumpkin pie filling
1/4 cup low sodium vegetable broth
1 Tbsp lemon juice fresh
3/4 tsp ginger root peeled and grated
1 1/2 tsp curry powder
1/4 tsp chili powder
1/4 tsp ground black pepper
1/4 tsp ground turmeric
1 Tbsp olive or vegetable oil
3/4 cup yellow onion trimmed and diced
3/4 cup cauliflower chopped 1/2"
1 cup butternut squash peeled, seeded and diced 1/2"
3/4 cup mushrooms trimmed and sliced
1 clove garlic peeled and minced
2 Tbsp cilantro minced
3/4 cup canned garbanzo beans (chickpeas) rinsed and drained
3/4 cup green peas frozen
1/2 tsp kosher salt
3 cups brown rice cooked
Instructions
In stockpot over medium-high heat, combine pumpkin, broth, lemon juice, ginger, curry powder, chili powder, pepper and ground turmeric. Cook, stirring constantly, until sauce is hot, 3 to 5 minutes. Set aside
In sauté pan or wok over high heat, heat oil. Add onion, cauliflower, and squash. Stir-fry until tender-crisp, 3 to 4 minutes.
Add mushrooms, garlic and cilantro. Stir-fry 3 minutes more.
Add garbanzo beans, frozen peas, salt and pumpkin sauce. Bring to a boil. Reduce heat. Simmer 3-4 minutes.
Serve over hot cooked brown rice.
Nutrition Facts (serves 6)
Calories: 250 kcal
Total Fat: 4.5 g
Saturated Fat: 0.5g
Cholesterol: 0mg
Sodium: 230mg
Total Carb: 47 g
Dietary Fiber: 6g
Protein: 8g