These baked omelet muffins are a quick and healthy breakfast. Make them ahead of time or freeze them for an easy breakfast for another day. And the best part is you can switch up the ingredients with whatever you have on hand!

INGREDIENTS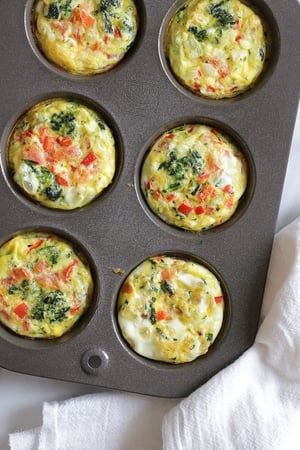 Nonstick cooking spray
9 large whole eggs
1/4 teaspoon kosher salt
Black pepper
3 strips cooked chopped bacon
3 tablespoons thawed frozen spinach, drained
3 tbsp diced tomatoes
3 tbsp diced onion
3 tbsp diced bell pepper
2 oz shredded cheddar
INSTRUCTIONS
Preheat the oven to 350F. Spray the muffin tins with cooking spray.
In a large bowl whisk the eggs, season with salt and pepper.
Mix in the remaining ingredients.
Fill and place tins on a cookie sheet and bake 20 to 25 minutes, until set.
Nutrition Facts
Calories: 165kcal
Total Fat: 11 g
Saturated Fat: 4.5 g
Cholesterol: 289 mg
Sodium: 267 mg
Total Carb: 2.5 g
Protein: 14 g