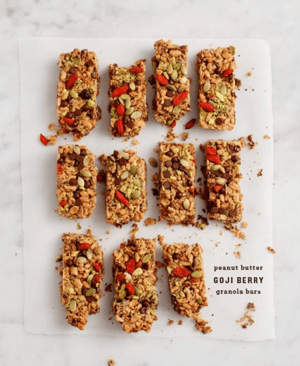 Prep: 20 mins
Bake: 10-12 mins to 15 mins at 350°
Servings: 18
Ingredients:
Nonstick cooking spray
1 cup regular rolled oats
¼ cup maple syrup
¼ cup peanut butter
3 tablespoons packed brown sugar
2 tablespoons coconut oil
2 tablespoons honey
1 tablespoon vanilla
½ teaspoon salt
2 cups crisp rice cereal
¼ cup pistachios
¼ cup pepitas
¼ cup goji berries
¼ cup toasted wheat germ
2 tablespoons chia seeds
¼ cup miniature semisweet chocolate pieces
Directions:
Preheat oven to 350°F. Line a 13x9x2-inch baking pan with foil. Coat foil with cooking spray; set aside. Spread oats in a 15x10x1-inch baking pan. Bake for 10 to 15 minutes or until toasted, stirring twice. Remove from oven; let cool. Reduce oven temperature to 300°F.
Meanwhile in a small saucepan combine the maple syrup, peanut butter, brown sugar, coconut oil, and honey. Heat and stir over medium heat just until peanut butter and brown sugar are melted. Remove from heat. Stir in vanilla and salt.
In a large bowl combine the toasted oats, rice cereal, pistachios, pepitas, goji berries, wheat germ, and chia seeds. Stir to combine. Pour maple syrup mixture over oat mixture. Stir to combine.
Press oat mixture into the prepared baking dish. Sprinkle chocolate pieces evenly over the top. Press chocolate pieces firmly into oat mixture. Bake for 12 to 15 minutes or until firm. Cool completely in pan on a wire rack.
To Make Ahead:
Layer bars between sheets of waxed paper in an airtight container; cover. Store at room temperature for up to 3 days or freeze for up to 3 months.
Recipe & Picture from Love & Lemons.