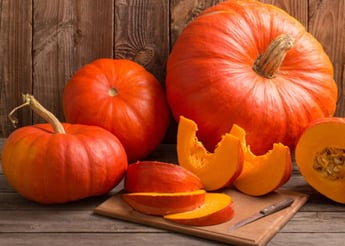 Fall is here, which means sweater weather, changing leaves, and of course, pumpkin spice season! Whether we like or not, it seems that pumpkin spice is a trend that is here to stay. We aren't complaining because there are actually a lot of nutrition benefits when it comes to pumpkin, so we like any excuse to start incorporating it into our fall recipes.
However, not all foods with pumpkin are created equally. A lot of products just have 'pumpkin spice' and contain no actual pumpkin whatsoever. These products usually just contain the spices that flavor a pumpkin pie, which generally include ground cinnamon, nutmeg, ginger, cloves, and sometimes allspice. Make sure that the product actually contains real pumpkin to reap the benefits of our favorite fall produce!
Benefits of Pumpkin:
Loaded with Vitamins and Minerals

Vitamin A: great for helping us to fight infections by strengthening our immune system.
Vitamin C: helps boost the immune system. Vitamin C can also protect your body against cardiovascular disease, prevent eye disease, and make wounds heal faster.
Potassium: can help prevent heart disease. Some studies show that people with higher potassium intakes appear to have lower incidence of stroke and hypertension.
Magnesium: helps to control blood pressure, regulate blood sugar, and maintain healthy bones. Pumpkin seeds are going to be the part of the pumpkin that is high in magnesium.

Antioxidants

Pumpkin is high in beta-carotene, alpha-carotene, and beta-cryptoxanthin. These antioxidants can help prevent cell damage that is caused by free radicals. Free radicals can damage your DNA due to oxidative stress, which can increase your risk for cancer, type 2 diabetes, and heart disease.

Fiber

The flesh and seeds of pumpkin are both good sources of fiber. Fiber has countless health benefits, which include maintaining bowel health, improving blood sugar levels, and lowering cholesterol levels. A diet adequate in fiber can also help with achieving a healthy weight as high fiber foods tend to be more filling and energy dense.
For more healthy eating tips, contact the Thorek Memorial Hospital Food & Nutrition Department.