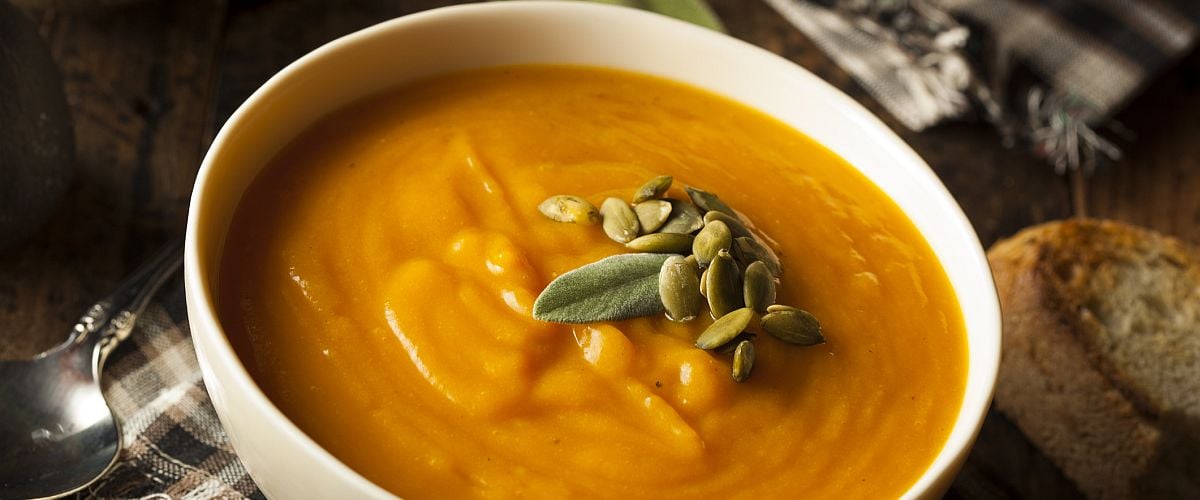 Warm up this month with this healthy and easy Fall recipe for Butternut Squash Bisque. A delicious puree of butternut squash and sweet potatoes spiced with pumpkin pie spice, nutmeg and fresh ginger, this is sure to be a perfect Fall dinner for the whole family.
Ingredients
Instructions
In stockpot over medium-high heat, heat oil. Add onion, celery, carrot and ginger root. Saute until onion is translucent, 3 to 5 minutes.
Add remaining ingredients. Bring to boil. Reduce heat. Simmer until squash is tender, 20 to 25 minutes.
In blender, process soup on medium speed until smooth, 3 to 5 minutes.
Strain through China cap (look for a 12" fine strainer).
Garnish with pumpkin seeds (optional).
Nutrition Facts (serves 8)
Calories: 90 kcal
Total Fat: 3 g
Saturated Fat: 0 g
Cholesterol: 0 mg
Sodium: 390 mg
Total Carb: 15 g
Dietary Fiber: 3 g
Protein: 2 g