Punch up the protein in your granola with maple syrup roasted chickpeas.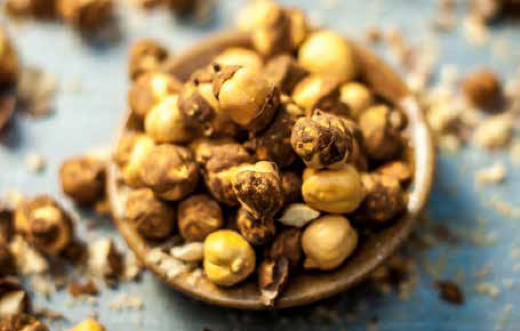 TIME: 1 hour 10 minutes YIELDS: 8 servings
INGREDIENTS:
1 can (or 2 cups cooked) chickpeas
1 ¼ cup rolled oats
½ cup walnuts
¼ cup sesame seeds
¼ cup margarine
¼ cup + 1 tbsp maple syrup
¼ cup cacoa nibs
½ tsp salt
¼ tsp ground ginger
¼ tsp cardamom
PREPARATION:
Preheat oven to 400ºF. In a bowl, toss chickpeas with 1 tbsp of the maple syrup and spices. Place chickpeas on a sheet pan and spread evenly. Bake until golden brown or about 30 minutes.
Use heat-resistant spatula to stir occasionally. Once golden and crunchy set aside.
Reduce oven to 330ºF. Line a large baking sheet with parchment paper. Set aside. In a large bowl, combine oats, walnuts, sesame seeds with margarine and maple syrup. Stir to combine. Add salt and vanilla and stir again. Spread evenly on prepared baking sheet and press down. After 15 minutes, add cacao nibs and chickpeas.
Stir to combine and return to oven for another 10 minutes.
Remove from oven. Toss and allow to cool. Store in an airtight container or glass jar with a lid for up to two weeks.
Source: Global Pulse Confederation from pulses.org (7/18).