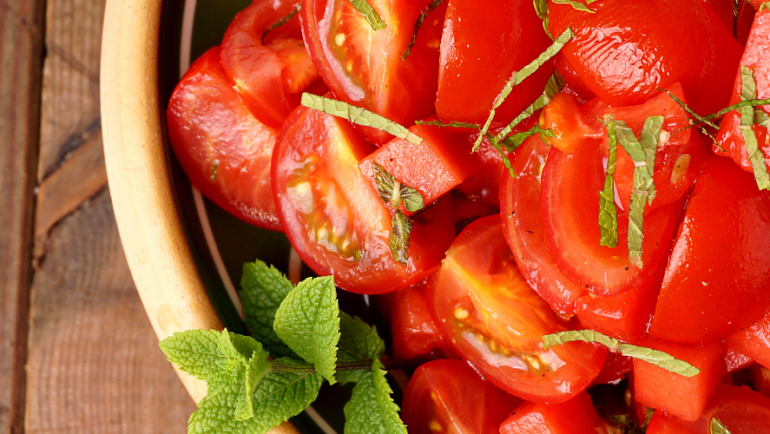 This fresh salad is the definition of Summer in a bowl. It is sweet and salty with a hint of acidity. Fresh cut watermelon and plum tomatoes with basil and mint, tossed in red wine vinaigrette. The recipe is easy to make and can be enjoyed on its own or as a side dish.
Servings: 1/2 cup
Ingredients:
2 cups seedless watermelon cubed
1 large tomato diced
1 1/2 Tbsp red wine vinegar
1 Tbsp extra virgin olive oil
2 Tbsp fresh basil thinly sliced
2 Tbsp fresh mint thinly sliced
1/4 tsp kosher salt
1/8 tsp black pepper
Directions:
Combine all ingredients. Toss to coat.
Cover and keep chilled until ready to serve.
Nutrition Facts:
Calories: 30kcal
Total Fat: 1.5g
Saturated Fat: 0g
Trans Fat: 0g
Cholesterol: 0mg
Sodium: 25mg
Total Carb: 5g
Dietary Fiber: <1g
Sugars: 4g
Protein: <1g
Recipe and image courtesy of Aramark / Feed Your Potential 365.