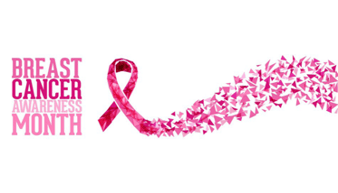 October is Breast Cancer Awareness Month and nutrition is an important part of cancer treatment and recovery. The American Institute for Cancer Research provides the following recommendations for cancer prevention for all individuals, including those currently going through cancer treatment or in remission.
The American Institute for Cancer Research Guidelines for Nutrition and Cancer Prevention (*):
Be a healthy weight

Avoiding weight gain as an adult is important for cancer prevention. Increased abdominal body fat can release hormones into the bloodstream, which can cause cancer growth.



Be physically active

The general recommendation is that we aim for a minimum of 150 minutes of moderate, or 75 minutes of vigorous, physical activity a week. Keep in mind that this is the minimum recommendation, so increasing the amount of exercise weekly can provide even more benefit.



Eat a diet rich in whole grains, vegetables, fruits, and beans

Aim for 2/3 of your plate to be plant based foods. Plants are great for cancer prevention because they are high in phytochemicals, which can protect our cells from damage that can lead to cancer.



Limit consumption of "fast foods" and other processed foods high in fat, starches, or sugars

Limiting these foods can help keep weight down. Research shows that a diet high in added sugar can also increase your risk for certain types of cancer.



Limit consumption of red and processed meat

Try to limit consumption of beef/pork/lamb to less than 12 to 18 ounces (cooked) per week. The recommendation for processed meat ( such as ham, bacon, hot dogs, sausages) is to try to avoid it as much as possible as research shows cancer risk begins to increase with even very low consumption of these foods.



Limit consumption of sugar-sweetened drinks

Limiting sodas and juices is a great way to lose weight as these foods do not help you feel full and provide an excess of empty calories.



Limit alcohol consumption

For cancer prevention, it is best to avoid alcohol consumption completely.



Do not use supplements for cancer prevention

Use supplements with caution if not recommended by a doctor or registered dietitian. Do not expect any dietary supplement to be used as a substitute for healthy eating to lower cancer risk. If it sounds too good to be true, it probably is.



For mothers: breastfeed your baby, if you can

There is strong evidence that breastfeeding helps protect the mother against breast cancer.



After a cancer diagnosis: follow our Recommendations, if you can

For breast cancer survivors, there is some evidence that nutrition and physical activity reliably predict important outcomes from breast cancer.
*All recommendations were obtained by the American Institute for Cancer Research.