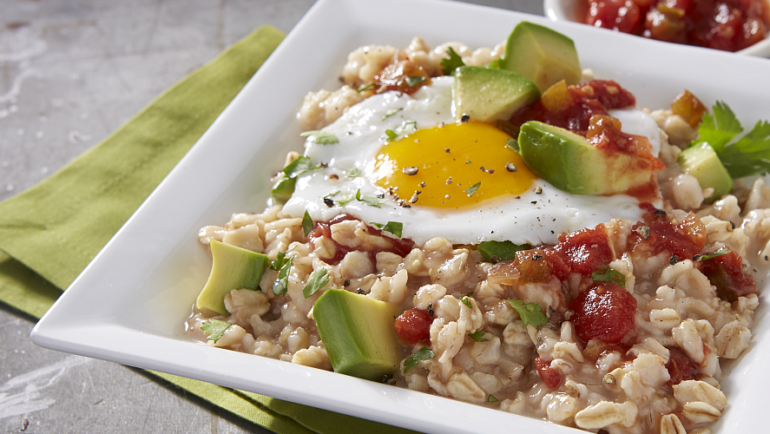 Give your breakfast a little kick! This easy and healthy breakfast recipe takes a morning staple - oatmeal - and elevates it to another level, southwest style. With some salsa and fresh avocado, and topped with a fried egg, this breakfast is sure to start your morning off on the right note and keep you full till lunch.
Serving Size: Serves 4
Ingredients:
4 cups

water

1 pinch

salt

2 cups

Quaker Kettle Hearty® oats

3/4 cup

salsa

divided into 1/2 cup & 1/4 cup

4 ea

eggs

fried sunny side up or over easy

1 ea

avocado

peeled, seeded and diced (1 cup)

C

hopped cilantro or green onions

(

optional)
Instructions:
In heavy large saucepan, bring water and salt to a brisk boil. Stir in oats; return to boil. Reduce heat; simmer 8 minutes, stirring occasionally. Let stand covered for 30 minutes.

Stir 1/2 cup of the salsa into the oatmeal. Top each serving with a fried egg, 1/4 cup diced avocado and 1 tablespoon of the remaining salsa. Garnish with a sprinkling of cilantro or green onion if desired.
Nutrition Facts:
Calories: 290kcal

Total Fat: 13g

Saturated Fat: 3g

Trans Fat: 0g

Cholesterol: 185mg

Sodium: 400mg

Total Carb: 34g

Dietary Fiber: 7g

Sugars: 3g

Protein: 13g