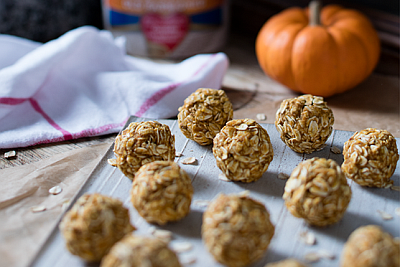 Right now we are all looking for easy and healthy recipes we can make at home in no time at all. These pumpkin oat energy bites are incredibly easy to make, and best of all, there's no cooking required! Just mixing the ingredients and forming the bites. And chances are, you might just have all these ingredients on hand at home!
Servings: 8 (3 bites per serving)
Ingredients:
2 1/4 cups Quaker® Oats (quick or old fashioned) uncooked
1/4 cup oat flour
1/2 tsp pumpkin pie spice add more to taste
3/4 cup pumpkin puree
2 Tbsp honey
Instructions:
Place oats, flour, and pumpkin pie spice in large bowl; stir to blend well.
Add combined pumpkin and honey. Stir until ingredients are well blended. If desired, add salt to taste preference.
Shape into 24 (about 1 inch diameter) balls (3 bites per serving).
Refrigerate, covered, until chilled. Store leftovers in refrigerator, covered. Recipe Notes Recipe courtesy of our #partner Quaker®
Recipe Notes:
To make oat flour, place 1/4 cup Quick or Old Fashioned Oats in blender or food processor. Process until finely ground.
Nutrition Facts:
Calories: 130kcal
Total Fat: 3.5g
Saturated Fat: 0.5g
Cholesterol: 0mg
Sodium: 3mg
Total Carb: 22g
Dietary Fiber: 3g
Sugars: 5g
Protein: 4g