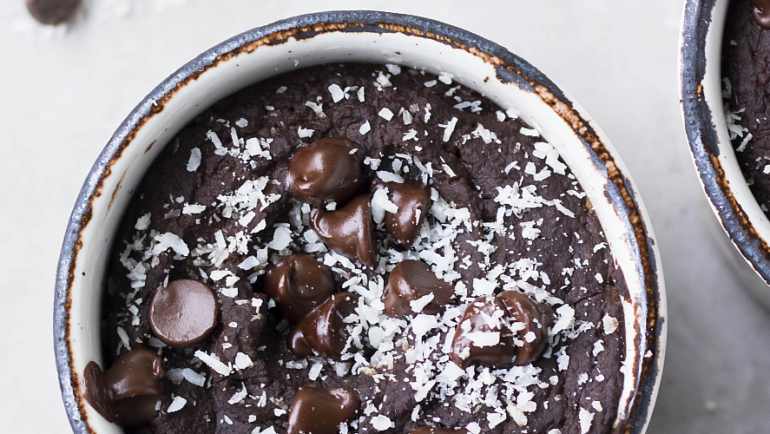 Just in time for Valentine's Day, you can now have the perfect, healthier version of chocolate cake in just 5 minutes with the help of your favorite coffee mug. And with the addition of chickpeas and almond milk, you don't have to feel guilty about indulging in an extra piece...or mug.
Serving Size: Serves 4
Ingredients:
1 cup chickpeas, canned, rinsed, drained
3 Tbsp honey
½ cup almond milk, unsweetened
1 ½ tsp vanilla extract
4 Tbsp cocoa powder, unsweetened
4 Tbsp almond flour
1 ½ tsp baking powder
2 Tbsp dark chocolate chips
1 Tbsp shredded coconut (optional)
Instructions:
Blend chickpeas, honey, almond milk, and vanilla in a blender or food processor until smooth. Then add flour, baking powder, and cocoa powder and blend again until combined.
Divide between four microwave-safe mugs.
Sprinkle chocolate chips and any optional toppings on top of each mug.
Microwave on medium power for 2-3 minutes
Let cool, and then enjoy!
Nutrition Facts:
Calorie 200 kcal
Total Fat 7 g
Saturated Fat 2g
Trans Fat 0g
Cholesterol 0mg
Sodium 105 mg
Total Carb 32 g
Dietary Fiber 5g
Sugar 17 g
Protein 7g